Ethics of Socially Disruptive Technologies
ESDiT is a 10-year long international research programme of 7 academic institutions. We work on breakthrough research at the intersections of ethics, philosophy, technology, engineering and social sciences.
What We Do
Who We Are
New digital technologies
robotics, artificial intelligence, machine learning, Internet of Things (IoT), big data, blockchain, social media, and quantum computing
Bio- and brain technologies
gene editing, gene drives, synthetic biology, neurotechnology, advanced medical and food technologies, and technologies for human enhancement
Environmental & sustainable technologies
energy technologies, water technologies, recycling and other technologies for the circular economy, climate engineering, and bio-based and low-carbon technologies
Collaboration &
Knowledge exchange
The ESDiT programme is open to collaboration with other academic researchers, technology developers, policy makers & civil society organizations. We share relevant information and research results with media, education  & general public stakeholders.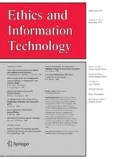 Latest News & Media appearances
News from the ESDIT programme + media appearances by our researchers:
Interviews with, and by, scholars affiliated with the research consortium Ethics of Socially Disruptive Technologies. The ESDiT podcast showcases ongoing research of various junior and senior scholars active in contemporary technology ethics.
Our Next Event
We regularly organize academic events and events with stakeholders, such as: